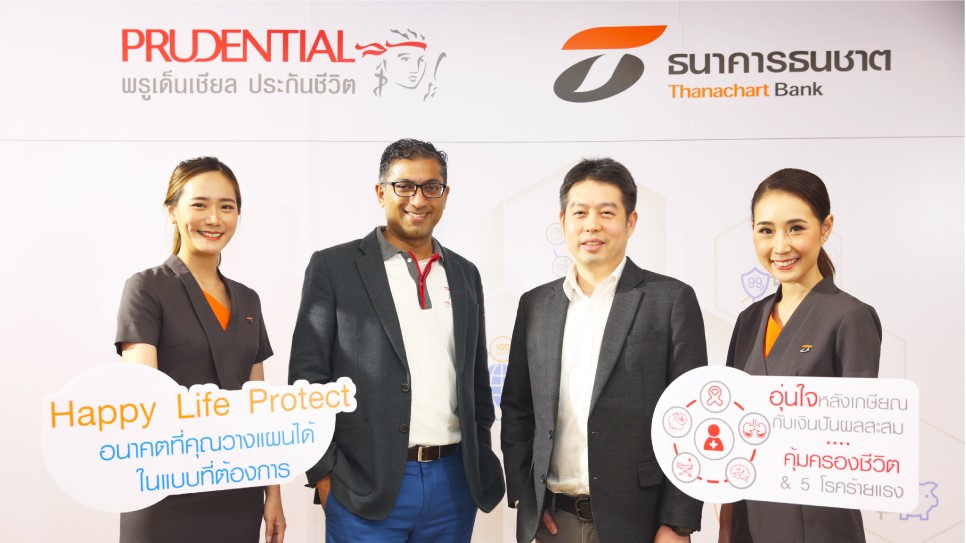 BANGKOK, THAILAND, 14 September 2020 – Prudential Life Assurance (Thailand) Public Company Limited ("Prudential Thailand") has joined hands with Thanachart Bank ("Thanachart") to launch a new life insurance solution – "Happy Life Protect" to meet the diverse needs of customers in the new normal. "Happy Life Protect" is a life insurance solution that helps customers plan for retirement, with life coverage of up to age 99 and coverage for the five critical illnesses that cause the highest number of deaths in Thailand.
The launch follows Prudential's strategic bancassurance partnerships with Thanachart in November 2012 and TMB Bank (TMB) in March 2020 to offer best-in-class life insurance products to more than 10 million customers through the banks' various channels. The launch of "Happy Life Protect" reinforces the shared commitment of the alliance to jointly developing insurance products that help to enhance the financial wellbeing of Thai people.
Nowadays, Thai people are becoming more aware of their health and the need to plan for medical emergencies. As pharmaceutical developments have made it possible to live longer, Thailand will become a full-fledged ageing society in 2021, with the number of senior citizens amounting to approximately 20 per cent of the total population1. While longevity is a positive development, health risks may arise as people live longer lives and fight against illnesses such as chronic diseases, or conditions requiring ongoing treatment, including cancer, high blood pressure, lung disease, heart disease, stroke, and etc. These diseases often result in high treatment costs and cause financial burdens to the patient and his/her family. Therefore, having an effective health insurance plan is crucial to help one manage the risks that may arise from unexpected illnesses and meet his/her financial needs in a critical situation. "Happy Life Protect" is the life and health insurance solution that caters to such needs.
Mr Chavamon Vinijtrongjit, Head of Bancassurance Products, Thanachart Bank, said, "Thanachart and Prudential Thailand aim to jointly expand our bancassurance business by introducing more innovative life insurance products to our customers across the country. The key to this alliance is to truly to enhance the financial well-being of our customers, as we trust that this is the foundation upon which help everyone can achieve their goals in life."
Mr. Aman Kapoor, Chief Distribution Officer, Prudential Thailand, said, "The collaboration in developing this product brings together Thanachart's understanding of and access to customers in Thailand, and Prudential's global expertise in life and health insurance, with a mutual commitment to providing Thai customers with access to best-in-class life insurance products and solutions that serve the protection needs of their families and loved ones. We are delighted, through our collaboration with Thanachart, to help our customers achieve their financial goals and get the most out of life."
"Happy Life Protect" is a life insurance solution that helps customers plan for a secure long-term future, by paying only 10 years of level premiums for life and critical illness coverage of up to age 99. The plan provides coverage for five critical illnesses: 1) Acute heart attack, 2) Major Stroke, 3) Chronic Kidney Failure, 4) Invasive Cancer and 5) Coma, and is available for customers aged between 1 month and 50 years. The insurance premium can be used for a tax deduction of up to 100,000 baht as specified by the Revenue Department. More importantly, the plan is designed to provide policyholders with the flexibility to partially withdraw the accumulated dividend for use after retirement (available from the age of 60). This plan is particularly suitable for business owners, high net worth individuals, as well as affluent families who look to accumulate wealth.
The product is now available at all Thanachart Bank branches and 52 co-branches of Thanachart and TMB across the country. Please contact any of these branches for information about "Happy Life Protect".
1https://www.nationthailand.com/business/30333636#:~:text=%E2%80%9CThailand%20will%20become%20a%20full,and%2019.1%20per%20cent%20respectively