Get The Latest Updates
Prudential Thailand and Eastspring Investments support the building of a respiratory treatment unit
at Hatyai Hospital to help Thailand fight against COVID-19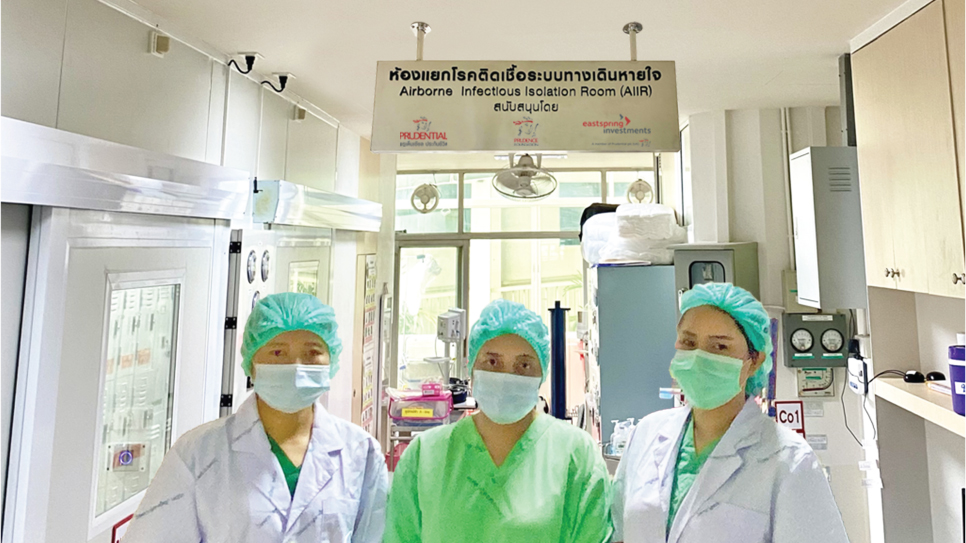 Bangkok, Thailand, 1 June 2021 - Prudential Life Assurance (Thailand) Public Company Limited ("Prudential Thailand") and Eastspring Investments, a leading Asia-based asset manager, donated funds to support the construction of the Airborne Infectious Isolation Room (AIIR) at Hatyai Hospital. The AIIR was designed to provide treatment for patients with respiratory diseases, including COVID-19.
The donation is part of the Prudential Thailand's COVID-19 Relief Fund (the Fund) that donated THB 4.9 million for the construction of AIIR and Acute Respiratory Infection (ARI) Clinics in four hospitals. The Fund has been distributed among Prudential's markets in Asia, Africa and the US to support charitable and community projects tackling the immediate impact of the pandemic and its social and economic consequences.
Hatyai Hospital is the third hospital to have completed the construction of the AIIR, a crucial facility in these times. Prior to this, the construction of the AIIR and ARI clinics at Golden Jubilee Medical Center and Vajira Hospital were completed in October 2020 and January 2021 respectively. The fourth and final ARI clinic at Priest Hospital is currently under construction and due to be completed by the end of June 2021.
The donation is part of Prudential Thailand's 'We DO Good' commitment to our society and community as well as to help protect the health and wellbeing of Thai people.
ABOUT PRUDENTIAL IN THAILAND
Prudential has operated in Thailand for more than 25 years through Prudential Life Assurance (Thailand) Public Company Limited. Prudential serves more than 1.6 million customers in Thailand and manages more than Thai Baht 112 billion of assets on their behalf. In 2020 the Thailand business grew IFRS operating profits by 23 per cent to USD 203 million and Life Weighted Premium by 8 per cent to USD 667 million. (31 December 2020 figures).
ABOUT EASTSPRING INVESTMENTS
Eastspring Investments is a leading Asia-based asset manager that manages over USD 220 billion (as at 30 June 2020) of assets on behalf of institutional and retail clients. Operating in Asia since 1994, Eastspring Investments is the Asian asset management business of Prudential plc, an international financial services group, and has one of the widest footprints across the region*. We provide investment solutions across a broad range of asset classes including equities, fixed income, multi asset, quantitative strategies and alternatives and are committed to delivering high quality investment outcomes for our clients over the long term. Eastspring Investments is a signatory to the United Nations-supported Principles for Responsible Investment (PRI), a voluntary program which encourages best practice in environmental, social and corporate governance issues. For more information on Eastspring Investments, please visit: www.eastspring.com
*Eastspring Investments (excluding JV companies) companies are ultimately wholly-owned / indirect subsidiaries / associates of Prudential plc of the United Kingdom. Eastspring Investments companies (including JV's) and Prudential plc are not affiliated in any manner with Prudential Financial, Inc., a company whose principal place of business is in the United States of America.